Incoming! New Developments
---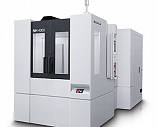 2018.02 --- DMG MORI NH4000 DCG Horizontal Machining Center
The NH4000 DCG is a high-performance machine incorporating all the features demanded of a horizontal machining center, including high speed, high precision, chip disposal and ease of maintenance, while achieving both a space saving design and a large work envelope. It employs the DCG (Driven at the Center of Gravity) technology for vibration control and the Box-in-Box construction. It has a 400mm x 400mm pallet with X, Y, Z travels of 22.0, 22.0, and 24.8 in., respectively.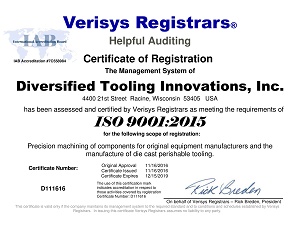 2016.11 --- DTI Receives ISO 9001:2015 Certification
DTI has been fundamentally committed to strict quality management since the company's inception, ensuring that DTI products are of consistently high quality. The principles of the ISO 9001 standard, 2015 edition, are specifically designated to recognize manufacturing companies like DTI who have implemented quality management systems that ensure consistent production of high-quality products, customer satisfaction and continuous improvement. Diversified Tooling Innovations, Inc. is certified ISO 9001:2015 by Verisys Registrars, Certificate Number: D111616.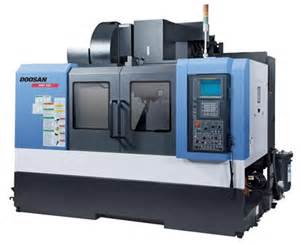 2016.08 --- Doosan DNM 500II Horizontal Machining Center
DNM II series with 20 HP/12,000 RPM direct-coupled spindle minimises noise and vibration and reduces spindle start/stop time. Roller LM guide enhances rigidity and extends service life. Utmost accuracy is achieved with direct coupled spindle structure and standard thermal displacement error compensation. Specifications: Table Size 47.2'' x 21.3'', Table Load Capacity 1,763.7 LBS, 4th Axis Rotary, Travels 40.2'' x 21.3" x 20.1", Rapid Traverse (X&Y/Z) 1417.3/1181.1 IPM, Cutting Feed Rate 590.6 IPM, ATC Positions 30, CAT40.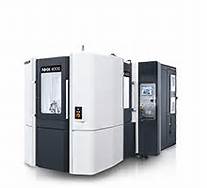 2015.12 --- DMG MORI NHX5500 Horizontal Machining Center
The NHX5500 horizontal machining center is a high-precision, high-speed horizontal machining center offers high-resolution direct-scale feedback and allows for machining with shorter tools. The machine has a standard 40/30 HP spindle that is capable of rotating CAT 50 tools at up to 8,000 rpm. It has a 500 x 500-mm pallet size that can handle workpieces up to 31.4 x 43.3 in. Its X, Y, Z travels are 31.5, 31.5, and 34.6 in., respectively.
2015.11 --- Women's Business Enterprise Certification
As a certified Woman-Owned Business Enterprise (WBE) approaching our 28th anniversary, we are large enough to handle any job, yet small enough to remain flexible and respond quickly to our customers' needs. Diversified Tooling Innovations, Inc. is certified as a WBE by the Wisconsin
Department of Administration.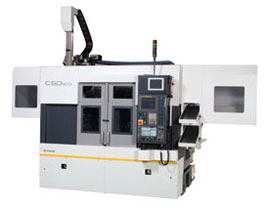 2014.11 --- Fuji CSD-300
This dual spindle, dual turret CNC lathe is engineered for performance, built fully automated with high speed 3-axis gantry robot. Compact in size, the machine is designed to be highly rigid and accurate. Specifications: 15/20 HP, 3630 RPM Max., equipped with 8" chucks and 10 tool turrets, travels X 5.5", Z 7.9", recommended work size ø7.9" x 3.9".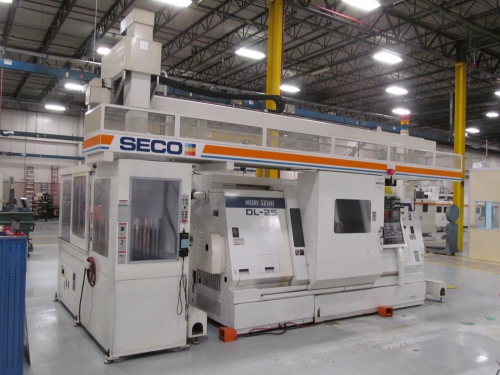 2014.10 --- Mori Seiki DL-25
In today's industry where increased productivity and improved production efficiency are the basis for survival, Mori Seiki's DL Series has left a trail of solid performance thanks to dual-face simultaneous machining. The Overhead Gantry Loader can Easily be turn on and off for Hand Loading Operation. Specifications: 35-3,500 RPM, 20 HP, Max. Swing Over Bed 15", Max. Turning Dia. 14.57", Max. Turning Length 11.8", (2) 12 Station Turrets With Live Milling, (2) Spindles With Programmable C-Axis, Overhead Gantry Loader.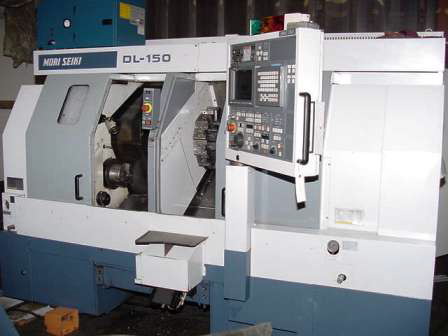 2014.10 --- Mori Seiki DL-150
Featuring Two Inline Opposing Spindles and Two Tool Turrets, each Addressing its Own Spindle. This Machine is Designed for Completing First and Second Turning Operations in One Actual Loading. Specifications:
30-5,000 RPM, 10 HP, Max. Swing Over Bed 11", Max. Turning Dia. 7.8", Max. Turning Length 7.8", (2) 12 Station Turrets With Live Milling,
(2) Spindles With Programmable C-Axis, Overhead Gantry Loader.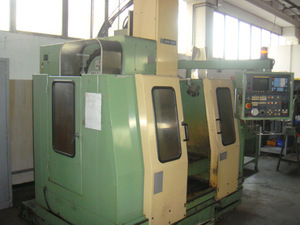 2014.10 --- Mori Seiki MV-40
Nobody uses sophisticated technology like Mori Seiki. Advanced mechatronics, in a down-to-earth design makes this vertical machining center really perform. Specifications: 40-8,000 RPM, 10/7.5 HP, Table Size 43.3" x 17.7", Table Load Capacity 1,540 LBS, Travels 31.5" x 16.15" x 20.1", Rapid Traverse (X&Y/Z) 400/400 IPM, Cutting Feed Rate 196 IPM, ATC Positions 40, CAT40.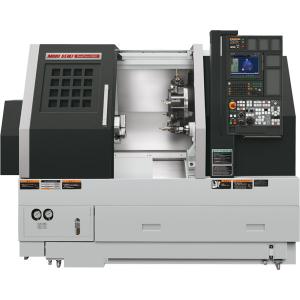 2014.04 --- DMG MORI DuraTurn 2550
The DuraTurn 2050 horizontal turning center is an efficient and affordable 2-axis lathe with an excellent price-to-performance ratio. With superior machining and multitasking capabilities, the DuraTurn 2050 is ideal for precision metal cutting, offering high quality parts at a reasonable price. Specifications: 35/30 HP, 30 to 3,000 RPM, equipped with 10" chuck with 3" bar capacity and 12 tool turret. Additional specifications include 24" swing, 17.3" swing over cross slide, 14.5" maximum turning diameter and 24" between centers.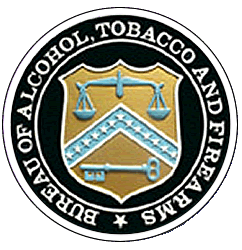 2014.01 --- Federal Firearms License (FFL)
Diversified Tooling Innovations Inc. has received a Federal Firearms License (FFL) issued by the U. S. Department of Justice, Bureau of Alcohol, Tobacco, Firearms and Explosives. The FFL permits Diversified Tooling Innovations Inc. to participate in the manufacturing of firearms, and to service its firearms manufacturer customers' products without having a customer representative on site while services are being performed.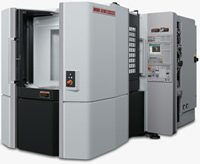 2013.02 --- DMG/Mori Seiki NHX4000 Horizontal Machining Center
The NHX4000 is compact—requiring just 12.5-m2 (134.5-ft2) of floor space—yet capable of handling sizable workpieces, thanks to its 880-lb. capacity. The machine has a standard 11-hp spindle that is capable of rotating CAT 40 tools at up to 12,000 rpm. The machine is equipped with a 60-tool magazine; chip-to-chip time is just 2.8 seconds. It has a 400 x 400-mm pallet size that can handle workpieces up to 24.8 x 35.4 in. Pallet change time is 8 sec. Its X, Y, Z travels are 22, 22, and 26 in., respectively. And the machine is quick, with acceleration up to 9 m/s2 and axes travel speeds up to 60 m/min. The machine is highly accurate, with a positioning accuracy of <2.5 µm and a <1.7 µm circular accuracy.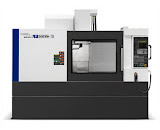 2012.09 --- Hyundai WIA F500VM Vertical Machining Center
The F500VM (X-axis, 43", Y-axis, 22", Z-axis, 20") is an all new CNC vertical machining center developed to offer premium performance at an affordable price. Hyundai WIA's new Value Master range is bundled with high-performance options as standard. Standard features include; a 30-tool swing arm tool changer, Thru Spindle Coolant, Big Plus Tooling as well as Rigid Tapping.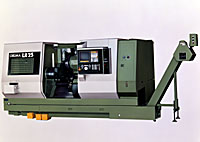 2011.05 --- Okuma LR25 4-Axis Turning Center
Okuma is a world leader in the development of computer numeric controls (CNC) and machining technology. Okuma lathes offer users high throughout, high accuracy, reliable solutions to production machining operations. The Okuma LR25 features 12 and 10 tool independent turrets and live tooling options. Additional specifications include 20.47" swing over bed, 14.57" swing over carriage, 13.39" maximum turning diameter and 33.46" between centers.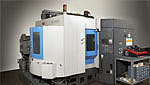 2011.04 --- Toyoda FA450 Twin-Pallet HMC
The robust construction of Toyoda machines delivers highly accurate dimensions and superior surface finishes. The FA450 horizontal machining center sports a 30/25 hp motor, 100 to 10,000 spindle speeds, 23.6" x 23.6" x 22" xyz travel, and dual 17.7" x 17.7" pallets with 881-lb load capacity.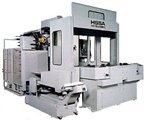 2010.12 --- (2) Mitsui Seiki HS5A Dual-Pallet HMC
Some of the key design criteria included in this machine include a large work size capacity featuring a work height (Y-axis) up to 900mm. Axis stroke is 850mm in X-axis and 750mm in Z-axis. The pallet size is 630mm with a maximum load capacity of 800kg. This machine, as with all Mitsui Seiki machining centers, is made for precision work. Its castings are metallurgically configured for the utmost stiffness, its box way axis slides are hardened, ground, and hand scraped. All assembly surfaces are hand scraped and fitted. The assembly is then meticulously inspected to ensure both geometric and positioning accuracy.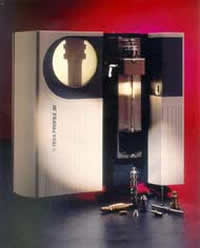 2009.08 --- Tesa Profile 80 Measuring System
This instrument provides the optimum solution for the measurement of cylindrical parts.  A new generation of ultra high speed non-contact measuring machines. This fully automatic, flexible measuring system with a powerful measurement capability satisfies the inspection requirements of the most precise round part applications.
| | | |
| --- | --- | --- |
| Measuring | Capacity | Accuracy |
| Diameter | 80mm (3.1") | 1.5+(0.01D)µm (0.06+0.01D)/1000" |
| Length | 350mm (13.8") | 7+(0.01L)µm (0.28+0.01L)/1000" |
The industrial strength software "Pro-Measure" further enhances the overall flexibility of TESA Scan . This highly intuitive package, easily satisfies each stage of the inspection process, and the time from part program creation to CNC component measurement is only a matter of minutes.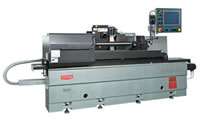 2009.02 --- Toyoda Select G 45M
This new machine tool is equipped with the latest STAT hybrid spindle bearing that combines the benefits of hydrostatic and hydrodynamic technology providing higher spindle stability than is available with conventional bearings. Capacity is 12.6" Swing, 39.4" between centers, Maximum load between centers of 330 pounds. Angle grinder with locator touch probe. Wheelhead position 90 degree and 30 degree, maximum wheel size 20 inches diameter. Minimum incremental movement (on diameter) 0.000010", rapid feed on diameter 394 IPM. Table type two piece swiveling/traversing with rapid feed of 394 IPM. Workhead Type TA-200W, Center Taper MT #4, variable speed 16 to 500 RPM. 10 H.P. wheel drive motor. With combination magnetic and fabric filtration coolant system. GC-50 LCD touch-screen control. DTI is committed to the latest in CNC machining technology in our ongoing effort to provide you with reliable quality and outstanding service at very competitive prices.