Cost Saving Opportunity
Equipped to provide both machining and grinding at a single location provides optimum efficiency that results in reduced production costs. DTI's process consolidation ensures increased control and accountability to attain the highest quality product.
CNC Grinding:
OD Diameters to 13"
OD Length up to 40"
ID Diameters 1/4" to 4"
ID Depth up to 5"
OD Grinding:
Diameters to 10"
Length up to 76"
ID Grinding:
Diameters 1/4" to 21"
Depth up to 19"
Surface Grinding:
Width up to 12"
Length up to 36"
Height up to 16"
Rotary Surface Grinding:
Diameters to 24"
Height up to 5"
Honing:
Diameters 1/16" to 10"
Depth up to 100"
In-Process Measurement
The part is continuously measured during the grinding process and the machine cycle is adjusted based on the amount of material stock to be removed.
Marposs In-Process gauging optimizes feed rates to produce parts with excellent surface finishes and very strict dimensional tolerances.
Acoustic Sensors
Using acoustic technology to detect subtle changes in the sounds produced during grinding allows extremely precise feed rate control.
Particularly useful for preventing collisions and detecting machine and tool abnormalities, chipped grinding wheels and dresser faults.
Wheel Balancing
A properly balanced grinding wheel can improve the surface quality of individual parts and extend spindle life.
Marposs wheel balancer continuously monitors the grinding wheel condition and immediately compensate any unbalancing during the cycle.
Grinding and Honing
---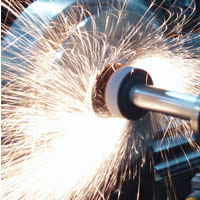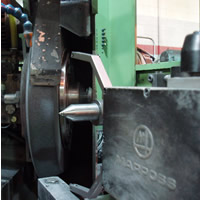 ---
Our surface grinders, cylindrical grinders and hones will give your parts the micro finish you require on flat work, outside diameters or inside diameters. With short set-up times and "In-process" gauging you're assured quality, accurate products with quick turn-around times. In addition to our CNC machines, our manual machines expand our grinding capabilities to larger diameters and longer lengths. We're capable of handling a wide variety of part sizes with at least one of our machines.
---


---
Our honing department gives our customers another option for fast affordable grinding of inside diameters, which are too small or too large for traditional internal grinding techniques. Our Sunnen power stroking auto-sizing hones can handle short as well as long production runs economically. For larger heavy or odd-shaped parts a vertical hone is available with a diameter range of 3/4" to 8", with a maximum stroke of 9". DTI's largest hone has a diameter range of 2" to 10", with a maximum stroke of 100". All of these machines are capable of producing bores with extremely close tolerance and finish requirements.