CNC, Conventional and Hybrid
While the majority of our work is CNC, we have maintained and upgraded our conventional equipment to enable us to provide services for low volume and prototype jobs.
3 and 4 Axis, Multiple Pallet CNC Machining Centers:
Horizontals with
travels up to
25" x 20" x 20"
Verticals with
travels up to
60" x 32" x 32"
2, 4, and 6 Axis, Multi-Turret, Multi-Spindle
CNC Turning:
Bar Diameters
up to 2-1/2"
Chucking Capacity
up to 27"
Lengths up to 10'
Wireless Intuitive Probing System
The Haas Wireless Intuitive Probing System (WIPS), with optical transmission for part setting, tool setting and inspection, consists of the following elements: • Spindle Probe Module (work probe) • Tool Setter Module (tool probe) • Intuitive Probing System Software All WIPS elements are designed to withstand the most difficult shopfloor conditions.
Synchronized Tapping
Using an encoder attached directly to the Haas high-performance spindle, Z-axis motion is synchronized with the spindle's rotation. Synchronized tapping eliminates the need for expensive, floating tap holders, and prevents lead-thread distortion and start-thread pullout. Also, the tap can reverse out of a rigid-tapped hole faster than it went in, which can reduce cycle times.
Programmable Coolant Nozzle
Programmable coolant nozzle is controlled automatically by the part program to direct coolant precisely at the cutting area, eliminating constant adjustments by the operator. The nozzle can also be adjusted from the keypad while a program is running.
Through-Spindle Coolant
Through-spindle coolant uses an auxiliary pump to supply coolant through the tool, directly to the cutting edge. This increases tool life, allows higher cutting speeds, and clears chips during deep-hole drilling and blindpocket milling.
Milling and Turning
---




---
Milling operations are performed on precision horizontal and vertical machining centers. Pallet changers and rotary tables for greater flexibility in machining. Renishaw solutions for tool setting, broken tool detection, component set-up, in-cycle gauging and first-off inspection of parts, with automatic offset updates. DTI can design and build custom work holding fixtures that allow multiple part processing for faster cycle times and increased efficiency.
---

---
Turning operations are performed on precision CNC turning centers equipped with live tools and sub spindle capabilities, which eliminates costly secondary operations and handling. Hydrostatic bar feeders which reduce load time and vibration, allowing closer tolerances, better finishes, and greater machine efficiency.
---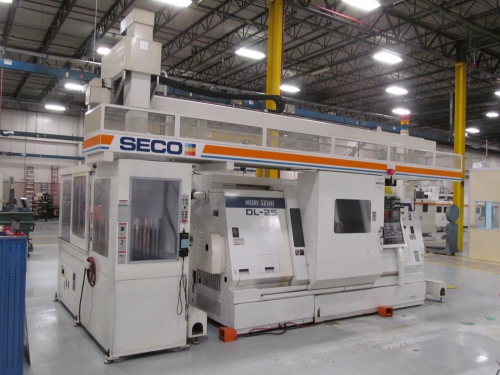 ---
Gantry loaded automated turning also provides speed, reliability, and lowered labor input at DTI. The overhead gantry system picks up a casting from the queue station, and waits above the first operation spindle. When the part in the chuck is complete, the gantry unloads the finished part and loads the casting. After the first side is turned, the gantry gripper picks up the part, rotates it 180° and loads it for the second operation. The gantry also unloads parts from the second operation and deposits them on the outgoing conveyor.